What Is Enterprise Architecture (EA)?
When we think of famous architecture, we immediately think of the Empire State Building, the Eiffel Tower, or anything by Frank Lloyd Wright.
But what about famous enterprise architecture?
Google, IBM, and Walmart have tens of thousands, hundreds of thousands, and millions of employees, respectively. But it doesn't stop at human capital — the technology stack, the information layer, and much more complexity are involved.
Successful companies are not simply built brick by brick. They are skillfully architected.
Startups are known for getting stuck in the early stages and expanding either too fast or too slow. While enterprise architecture is not a quick fix for failing startups, preliminary planning can help provide the tools and roadmap a young company needs to succeed.
In this article, we provide insight into enterprise architecture and how this organizational imperative can lead to the successful execution of your business strategy. Let's begin by nailing down a definition.
What Is Enterprise Architecture?
Enterprise architecture (EA) is all about designing business infrastructure and organizational structure based on vision, strategic intent, and function.
It started as a means to manage the growing complexity of IT systems but has since grown to include information about the business architecture itself.
Enterprise architecture makes sure there's a plan and that the metaphorical bricks aren't laid at random.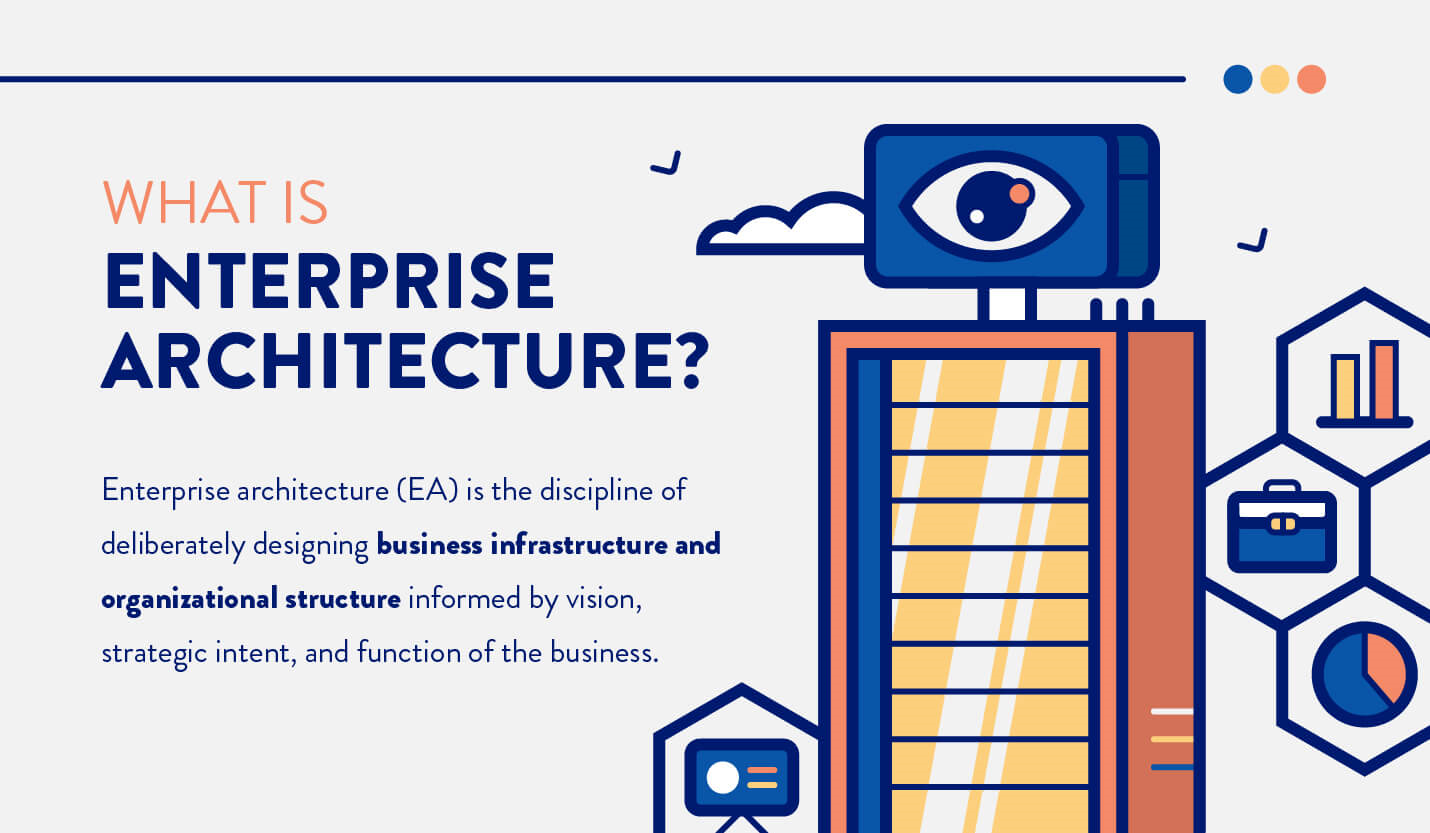 Think of it as a bird's-eye view that shows where the enterprise is moving and the strategy to take it there. This is especially helpful for young companies to develop a process as they're starting out.
Goals of Enterprise Architecture
The goal of enterprise architecture is to provide the framework, tools, and perspectives to take a startup or business from its current state to its target state.
You may think the target state is the light at the end of the tunnel, but it's more like the structural integrity of the tunnel itself. Achieving the target state is actually a byproduct of a successful enterprise architecture.
Enterprises are complex and dynamic systems subject to variability. The model is always evolving and therefore the EA planning and framework must be iterative and dynamic.
What Are Enterprise Architecture Frameworks For?
Frameworks exist to help businesses effectively implement and track their enterprise architecture planning.
Enterprise architecture can be vague since it's meant to address an entire organization, rather than individual needs or problems. This is why frameworks are helpful, so businesses can establish processes or evaluate EA against their long-term goals.
There are many framework types, but they have the same goal — to create a standardized approach to EA with a common vocabulary, compliance methods, or recommended tools and software.
Let's cover some of the popular frameworks and methodologies that come with them.
Enterprise Architecture Frameworks and Methodologies
We'll cover two of the most popular EA frameworks: Zachman and TOGAF.
Back in the 1980s, John Zachman of IBM noticed how extraordinarily complex information systems were becoming. He knew the company needed a logical framework to handle this growing complexity, so he proposed a plan which became a philosophy for many enterprise architects.
Zachman Framework
The Zachman framework is an ontology, which is simply a set of detailed directions of how everything is connected.
The categories of this framework take various perspectives across the company. It asks five questions of each:
Who?
What?
When?
Where?
Why?
How?
The perspectives are organized in a top-down. format It starts with the C-level executive's perspective, trickles down to the perspectives of management, the enterprise architect, engineers, individual contributors, and finally the end user.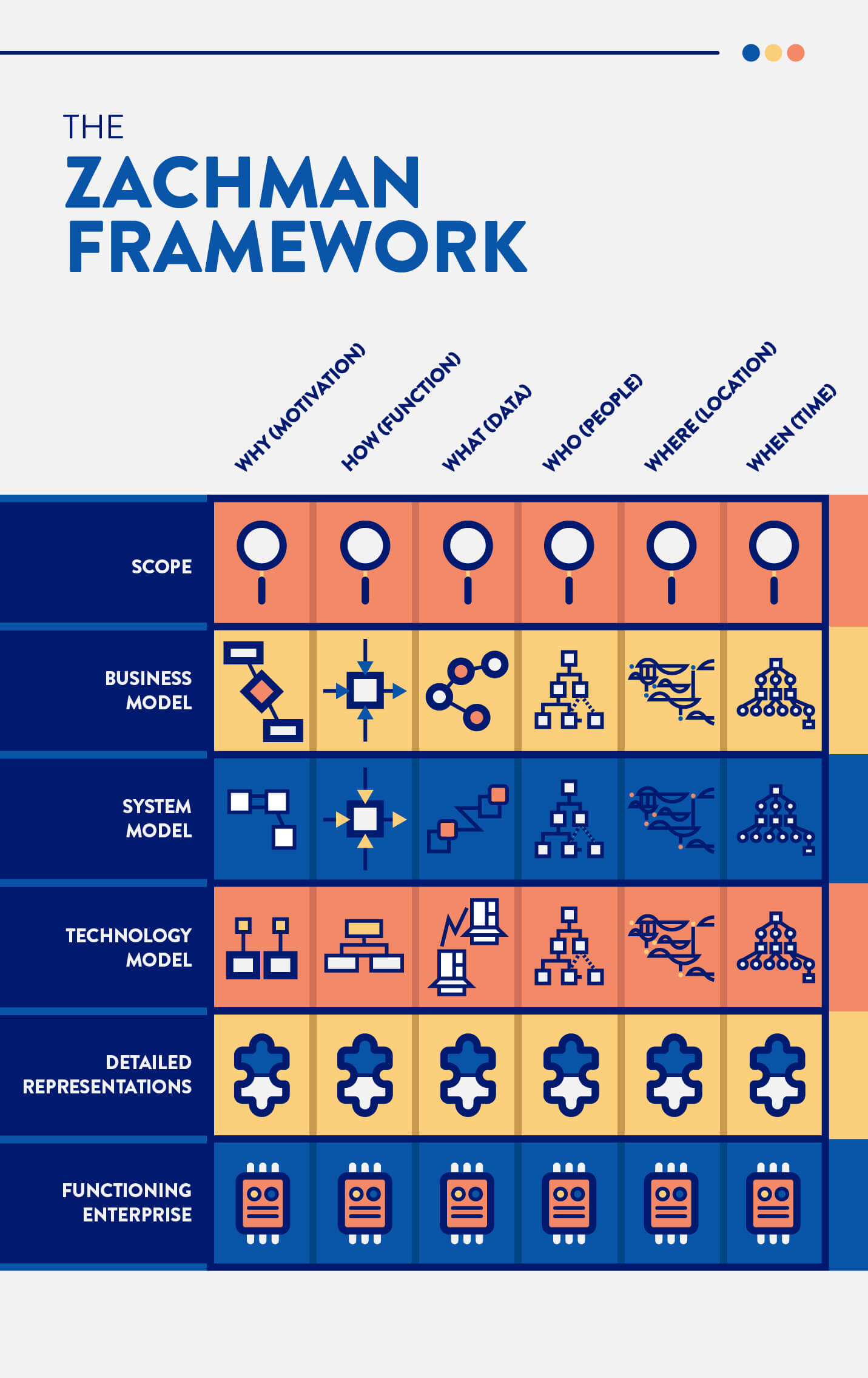 The Zachman framework is a lightweight model because it can be applied to many types of businesses. However, this framework is more descriptive and less prescriptive.
The TOGAF model, although another metamodel, is more prescriptive in nature.
TOGAF
The core of TOGAF is the Architectural Development Method (ADM). The ADM provides a framework for the architect development cycle.
While it may look complicated, it all boils down to organized teamwork: understanding a common goal, communicating changes, and working together across teams.
TOGAF argues for an "Enterprise Continuum." This includes internal and external assets like models, descriptions, and patterns that help inform your enterprise architecture. By considering a variety of solutions, you may be able to reuse or iterate on past work, saving time and money.
Simply put, it accounts for the changing business environment and provides guidance for managing evolving architecture.
Some of the other components of TOGAF include:
Architecture vision
Migration planning
Implementation governance
Architecture change management
This framework is comprehensive for nearly any business in any industry. Although the framework is prescriptive, it does not prescribe the number of iterations needed or the scope of each iteration.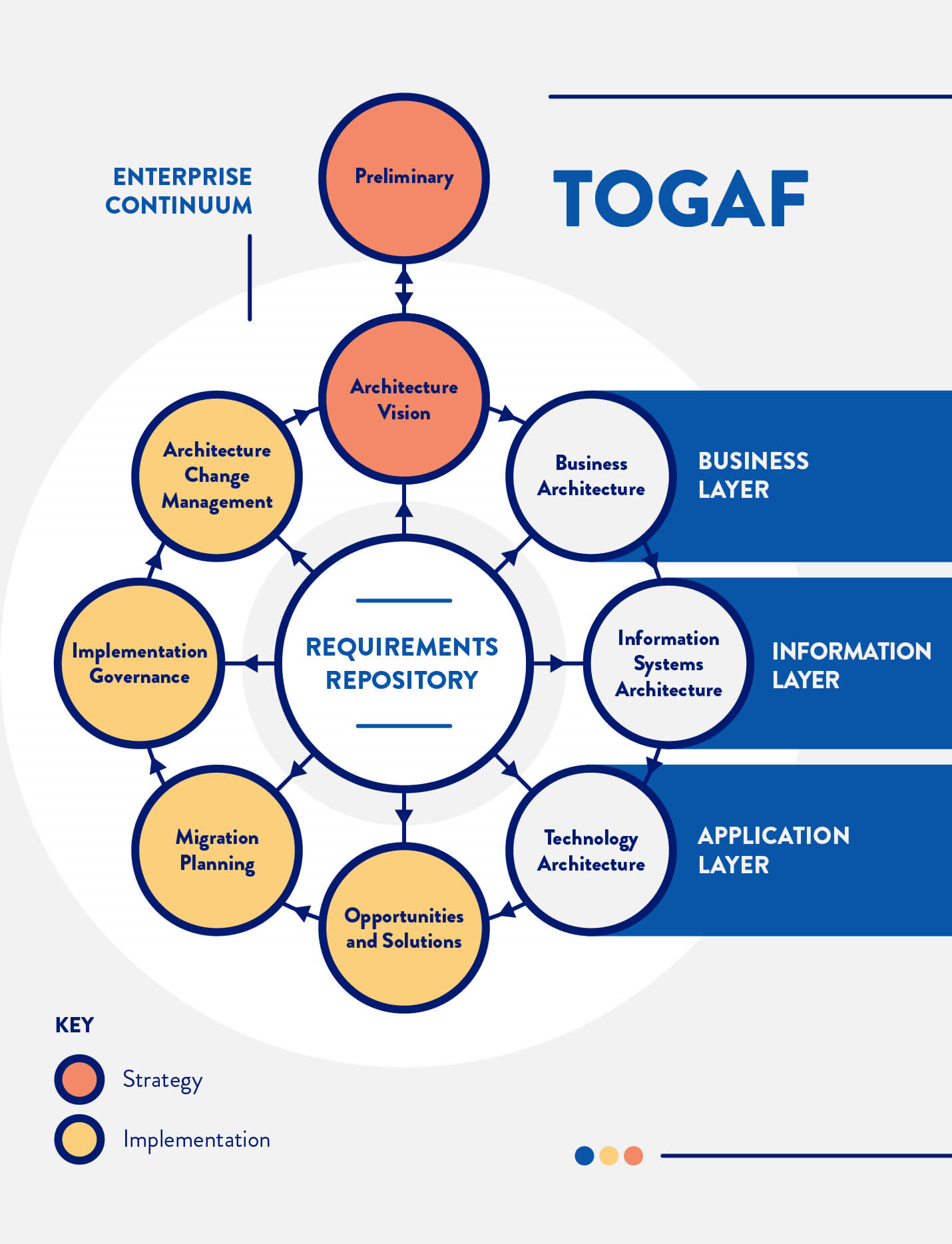 What are Enterprise Architecture Domains?
Enterprise architecture guides your business, information, process, and technology decisions to execute a business strategy.
Just as an enterprise has multiple departments and domains, enterprise architecture itself can be broken down into domains.
Enterprise architects focus on each domain and how they relate to one another to deliver an organization's strategy.
Types of Enterprise Architecture Domains
There are typically four architecture domains and they are often interconnected:
Business Architecture
Applications Architecture
Information Architecture
Technology Architecture
Each domain has its own specific protocols or practices. Let's dive into each more in-depth.
Business Architecture
Business architecture keeps the value chain connected, strong, and able to perform the task at hand. This means delivering value end-to-end in the most efficient way.
A business architect must create a blueprint of the enterprise. This helps provide a common understanding of business goals and align strategies to deliver the intended outcome. One of the most important aspects of business architecture is "a common understanding."
95% of employees do not fully understand the strategic vision of their company.03 One goal of business architecture is to ensure that all contributors know what they are building towards.
Like the bricklayer's parable: when asked what they were doing, one replied "laying bricks," another replied "building a church," and the third replied "building a house of God." The first person merely has a job, the second has a career, and the third has a calling.
Paint the picture for your team to understand what they are building and why.
Applications Architecture
The transposition of business logic into a functional application is becoming more prevalent in today's technologically driven business environment. Building complex applications requires strategic planning as much, if not more so than project management.
One interesting dilemma many businesses face is whether to build or buy a solution. Stephanie Cohen, the chief strategy officer for Goldman Sachs, recalls the moment when they realized building a word processor internally was inefficient and ultimately ineffective.04
Goldman Sachs decided to buy word processing software and focus on building the applications that have the biggest impact on their business.
Understanding what features and tools you must build is the first step. The architecture of the application itself considers programming language, dependencies, database, API, SDK, and many other considerations.
Information Architecture
Enterprise Information Architecture (EIA) is the process and protocol for managing the exchange of information across the company. EIA is used to guide change management, promote data sharing, and reduce business cycle time.
Small and large enterprises can benefit from a successful EIA strategy. With a team of any size, the metaphoric wheel gets recreated more than once to solve some of the same problems across the company.
EIA aims to create an open and collaborative environment where reusability is encouraged.
A well-built and maintained EIA can benefit a company in ways that may go unrecognized. Mergers, acquisitions, and new employees, for example, are able to integrate more smoothly and successfully within the company.
Technology Architecture
This domain describes the software and hardware needed to implement business, data, and application services.
Technology of the enterprise may sometimes enable or disable the enterprise in the execution of its business strategy. Choosing servers, devices, databases, software, and networks should be connected to your overall business architecture policies and goals.
Some of the other domains that must be considered when structuring your EA are:
Security
Cloud computing
Data
If you are managing the EIA, for example, you must understand how to balance internal transparency with security. If you are architecting the application layer, you must choose between spinning up your own servers or using a cloud computing service provider.
Another concern in the modern era of big data is how that data is used and exchanged — especially when sold to third parties. Regulations like GDPR have been enacted to protect users from sharing sensitive personal information unknowingly.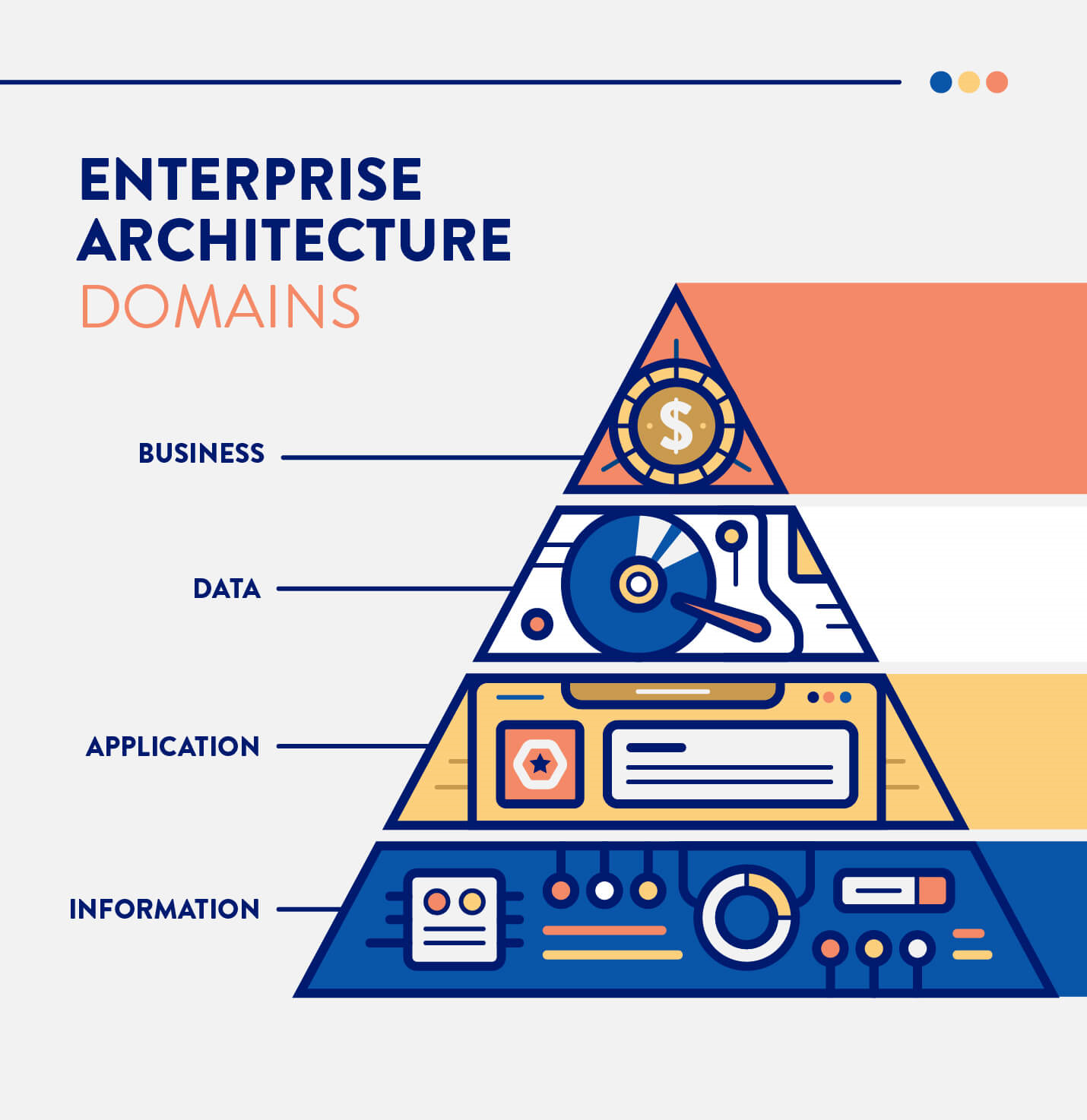 Architect the Future of Your Enterprise
As Benjamin Franklin would say, "If you fail to plan, you are planning to fail!"
Enterprise architecture helps startups map out a profitable future by sourcing real-time data and up-to-date analytics.
Operational success depends on the processes that put your business, technological, and informational strategy in place.